From Blaine Kellis, Tampa Florida. June 2004

Nantucket is my favorite band! Having grown up in Charlotte, North Carolina, I was fortunate to be able to see the band several times. Their music was basically the soundtrack to my high school and college days. I still listen religiously to the music as an old bald man in my 40's.

Where ever I went, I had my trusted Nantucket 8-tracks in the car ("Nantucket" and "Your Face or Mine") so we could crank up the tunes at any gathering. Later, I was able to advance to cassette for "Long Way to the Top", "No Direction Home" and "V"

It was great to see the band at the old "Treehouse" in Charlotte. One Friday night, it was "Belly Up to the Bar" (.25 draft) and Nantucket was playing there later that night. Anyone remember that bartender JJ? That was the one show I remember the least! More shows at The Treehouse, Carowinds, opening for AC/DC in the old Charlotte Coliseum, Asheville North Carolina at Yesterdays... I think, Clemson University opening for ARS, at Western Carolina University, The Attic @ ECU, The House of Blues in Myrtle Beach opening for Molly Hatchet, and in Raleigh at several clubs! Each of those shows bring back great memories, except for that first Treehouse show! Little memory of that one!


My big thrill was at The Western Carolina show circa 1983. The band was on the "No Direction Home Tour". I was working at the campus radio station, WWCU. We were able to have the band walk up the big hill to the radio station and do an interview! One of the stories they told was how the record company wanted them to change their name, but of course, it never happened. Eddie Blair said recently he had forgotten all about that! I still have a portion of that on CD! I asked them if I could introduce them on stage, and they said yes! I was shaking to death, but man, did I think I was cool! Standing in the stairwell, I will never forget Larry doing some last minute vocal drills just before running out on stage.


We didn't have beer sales at WCU, so we would all brown bag. After the concert, we told Tommy where we would be drinking and would have plenty for him if he showed. At that time, I think the name of the place was Thirstys. Never did we ever think he would come, but damn if he didn't! It was great as Tommy talked to everyone and treated us all like best friends. Years later, I would talk with Tommy about that and he mentioned that he went back up to WCU (after I had graduated) with Mike and someone else to open for the Georgia Satellites and he had some great memories about that trip.

Before the albums started coming out on CD, I was able to burn them to CD and gave to any of the guys I could locate. I happened to get Tommy's address and mailed to him. I called him a few weeks after that. I am pretty sure he didn't remember me from WCU 15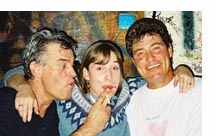 years before! I just asked him if he got the discs, and after a few minutes, I asked him a million questions about the band. I am sure he was thinking who is this guy? I am just glad that no one called the police because they thought I was a stalker of the band.

Later in life, I would meet again with Larry as we were both living in Raleigh at the time. He was more than happy to autograph several photos we had taken at earlier shows. He made sure that whenever we were at the show, he would speak to my wife and I. Eddie and Tommy were also very kind to take time out to speak with us and pose for pictures.


Kenny Soule is another who put up with my pestering. I was able to see PKM at WCU, Charlotte, and several Dag shows later on. My wife was always begging for a signed drum stick. He would always be generous with his time and would sign the stick just to get us to leave him alone, I'm sure. Thanks Kenny. Somewhere in this world, there is a PKM interview on tape we did at a club in Charlotte, but I haven't located it yet.

They are all very appreciative of the fans. Great music and great guys just to talk to.

It's great now that Wounded Bird is putting the first 3 albums on cd! It is sparking up an interest in the band all over again. I am telling all my friends who are glad to
know that they don't have to find an engineer to fix their 8-track tape player or turntable to listen to the band.

All the songs are all great. A few of my favs include "Girl You Blew a Good Thing", "I Live for Your Love", and "Rescue". "Rescue" in particular combines all the Nantucket elements. Tommy and Larry trading vocals, Kenny driving the tempo and Eddie's sax. The common link is the sax.

Thanks for the web site and giving us a chance to keep up with the band now. I am hoping to see the band somewhere before 2004 comes to a close.