From Bill Evans. November 2007

I am a 1983 graduate of South Johnston High School in Four Oaks, NC and remember the rich and diverse music scene in Raleigh in the early 80's. What a treat it was to be able to drive a few miles and see one of the great bands that were around at that time.

Most weekends, my plans consisted of finding out which bands were playing locally and deciding who to go and see. I would load my VW Beetle up with a couple of friends and make the drive to the Switch, the Attic, or the Pier to catch a show. Some of these bands even played a few shows here in Johnston County. There was a club in Smithfield called the Roadrunner. There was a club in Dunn called Shaggers. Who could forget the outstanding shows at the Noon to Moon Jam at Scott's Lake near Benson. I also recall a show at Brown's Lake in Selma and another at an old abandoned airport near Selma. I think the show was called Jetwinds. If my memory serves me correctly, the bands that day were the Pedestrians, Sidewinder, and PKM. We also caught shows by bands such as the Works and the Wiz. All of these bands wrote and played the soundtrack of my high school years.


My personal favorite band was PKM. These guys knew how to put on a great show. They played to the audience. I saw alot of the bigger more popular bands in the arenas but I don't recall ever feeling happier or more satisfied than when I was leaving a PKM concert. For those of us willing to stick around after the shows, the guys would usually come out and chat and that just made us feel even better about them. I still recall seeing the guys in some of the Raleigh music stores like Whetstone on Saunders or Professional Music on Glenwood or AL&M near the fairgrounds.

It was definitely a different and more simple time. The scene was all about the bands, the fans and the music. It wasn't about who had the most elaborate video on MTV. I kept a few things from that era. I have a concert poster from a Nantucket show, 1 from a PKM show and a 1983 WQDR calendar. Man, QDR did a great job of playing this fantastic music.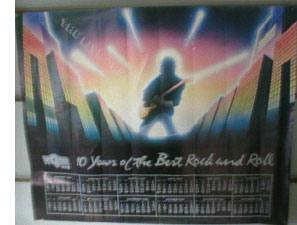 I still remember hearing "It Don't Take Much" in my bedroom for the 1st time. I was hooked on PKM from then on. Even to this day, when I listen to the PKM stuff, it takes me back to 1982. What a fantastic time to be a teenager in this area.

I have attached pictures of the poster I mentioned. I hope they will bring back a few memories for you too.

Bill Evans
Four Oaks, NC