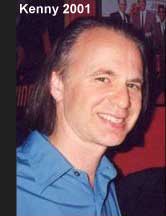 Kenny Soule - Drums

Kenny Soule has been a professional working musician for nearly four decades, with a body of recorded and live work ranging from rock and funk to jazz and classical music. His performances have taken him on tours throughout the United States and Europe. He has appeared on television in the U.S. (Comedy Central, BET) and Europe (MTV and others), and has played in front of crowds of over 60,000 people.

Kenny was born into a musical family in New Britain, Connecticut. He first studied violin and piano, but switched to drums when he saw the Beatles appear on the Ed Sullivan Show. Suddenly, at age twelve, he knew what he wanted to do with his life. His father Robert, a music professor, arranged for him to study under Tele Lesbines, tympanist for the Hartford Symphony Orchestra. Throughout grade school, from jazz band to concert band, orchestra to local rock and soul bands, Kenny's talent and skills grew. By the time he was accepted at East Carolina University to study under Harold A. Jones, the influences of the 60's British Invasion, Motown and Southern Soul, and Psychedelia had all left their mark.

While pursuing a major in Percussion Performance at ECU, he joined rock band Nantucket in 1972. They toured the southeastern U.S. relentlessly and signed to Epic records in 1977. Nantucket released three LP's between 1978 and 1980, featuring several tracks co-written by Kenny. Touring coast to coast for those years with AC/DC, Kiss, Cheap Trick, Foreigner, Boston, and others added to his experience and fueled his determination. An endorsement with Gretsch in 1979 featured Kenny in ads appearing in Creem, Rolling Stone, Downbeat, and Circus.

In 1981 he left Nantucket to form PKM, a power trio whose influences included Grand Funk Railroad and AC/DC. PKM's self-produced LP, Rock Erotica, was distributed by Polygram.

What began as a low-key studio collaboration became the band DAG when in December 2000, Kenny was invited to perform at the Experience Music Project in Seattle as part of the museum's first Innovator's Series—a tribute to Jimi Hendrix. There, he played alongside Audley Freed (Cry of Love, The Black Crowes), Charley Drayton (Keith Richards, The B52's), Mike Farris (Screamin' Cheetah Wheelies), Wayne Kramer (MC5), Reeves Gabrels (David Bowie, Tin Machine), Vernon Reid (Living Colour), Johnny Reznick (Goo Goo Dolls), Kenny Wayne Shepard, and Double Trouble. Most recently, Kenny has been on the road with blues/rock legend Walter Trout (Ruf Records), handling drums and background vocals for Walter's Spring and Fall 2001 U.S. and European tours. Kenny appeared alongside Walter at the 2001 LA Music Awards, where Walter was honored as Best Guitarist and Best Rock Album.

Kenny now performs an exciting variety of rock-n-soul, blues and jazz gigs—both live and in the studio—and teaches as many private students as possible. He also does session work and conducts drum clinics which feature his innovative and ever-changing drum set configurations.

As a professional with discriminating tastes in equipment, Kenny endorses the following lines: Aquarian heads, Pro Mark sticks, Sonor drums, and Paiste cymbals.

(Update Oct 2002) Kenny is currently living in New York, recording and touring with blues legend Popa Chubby.

(Update May 2004) Kenny is touring with Mary Mcbride.

(Update April 2006) Kenny now has his own website: kennysoule.com.